My Accessories Collection Part 1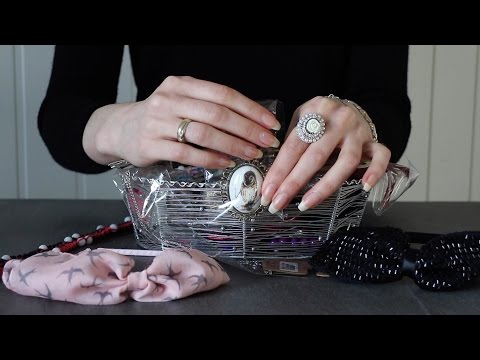 Hello My Fluffy Teddy Bears. I hope you all had a lovely weekend.
Today I made a video that has been requested for some time. I have a lot of accessories I think. Maybe more than normal? Well... There`s probably nothing normal when it comes to this topic.... Some love accessories and like to collect them and just have a lot, and then there is those who have less or maybe nothing at all. I believe I have a lot of accessories, and that`s because I had my own fashion online store years ago which was not successful. Let`s face it. Rule number one. Don`t buy a lot of stock items and believe the customers will just arrive just like that and buy it all. I don`t know if that`s rule number 1 or 100. But I think it should be a rule or at least a lesson from me to myself. ;) I tried to advertise wich helped, but not enough at all. And there`s a lot of similar online stores out there with the money, people and capacity. No way little me could survive in that industry. And it`s ok it didn`t work out, because a lot of other things have happened since then, and now I`m here with the best job in the world.
So yeah, I have a lot of accessories and some I might try to sell throug my youtube channel in the future when I get a good overview. Maybe on Etsy or something. I don`t know. But I have kept much of it for myself because then I don`t have to buy more, unless I really find something special. I have kind of been fed up with accessories for years now, and when I`m online shopping I don`t even bother to look at them. Jewelry is something different tho, and what I prefer to wear on a daily basis. I tend to stick to things that has personal value to me, and was gifted to me from special people in my life.
Some of the accessories are not from my online store tho. This black bracelet I have had since I was a teenager. But the white rose ring I`m wearing is from my store, and I don`t think I have any left in stock. And those braided bracelets actually my love made for me years ago. Everything that`s wrapped in plastic is definitely from my closed shop. Now that I make a lot of youtube videos the accessories will come in handy. Especially when I`m recording close up with my hands. It`s fun to dress up.
And btw. My fingernails are longer than they have been for years now, which I find really interesting, funny and nice. I`m going to try to grow them a little bit longer to see if such a length will be comfortable for me on a daily basis. When I was a teenager I often had long nails and loved nail polishes. I just remember that now much clearly. Nails and nail care have always been important to me and a part of my identity.
I hope you like my accessories video and that you will find it relaxing and tingling. I will make more videos like this when I receive my new camera lense which will be soon. I went for the Canon 18-135mm STM lense. It`s supposed to be quiet. This video was recorded on my old camera, the Canon EOS M.
Thank you so much for stopping by and have a nice day or night. Take care!
Solfrid